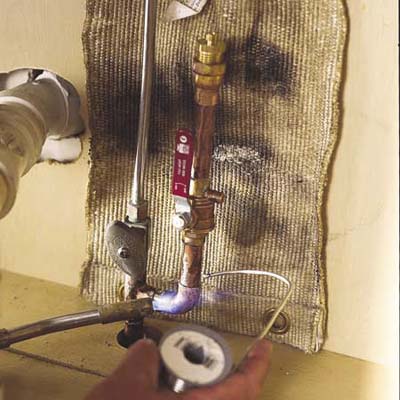 Fit a
½
-inch ball valve to two pieces of copper tubing and a female adapter, as illustrated at far left.
Solder the assembly together before installing it under the sink, for maximum safety. Work from the bottom up, first soldering the copper tubing to the ball valve, then the ball valve to the next bit of tubing, and finally the tubing to the female adapter.
Fit the assembly onto the tee fitting coming off the cold-water supply with a 90-degree elbow. Solder both ends of the elbow in place.
Wrap Teflon tape around the reducer fitting and thread it into the top of the female adapter. Hold the adapter with pliers while tightening the reducer with a wrench.
Tip: Be sure the ball valve is open when soldering so that steam can escape.