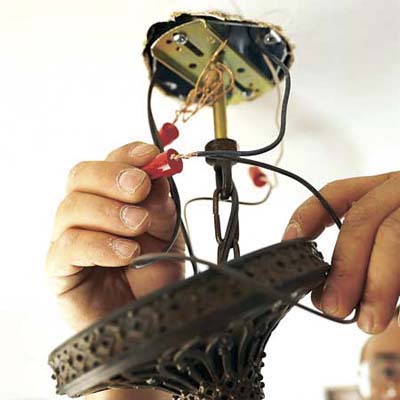 Remove any shades from the chandelier before installing it.
Shorten the wires and remove chain links so the chandelier will hang at the right height.
Thread the nipple first into the chandelier's chain holder, then into the fixture-mounting bar. Feed the chandelier wires through the nipple.
Lift the fixture and screw the mounting bar to the electrical box.
Wrap the cable's copper ground wire around the grounding screw, tighten it, then connect the wire's end to the chandelier's ground wire.
Next, strip
½
inch of insulation off the chandelier's wiring.
Use a twist-on connector to join the chandelier's white wire to the cable's white wire. Do the same with the chandelier's and the cable's black wires.