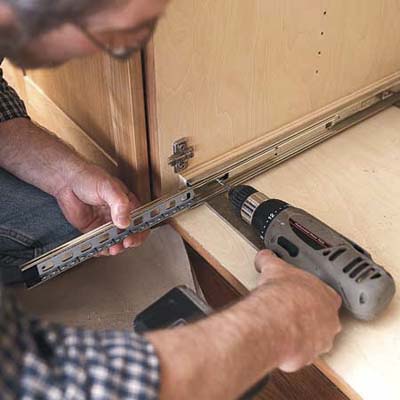 Prepare the drawer slides for installation by first removing the sliding-drawer-rail section from each slide.
Cut two 1/8-inch-thick shims from a piece of Masonite or cardboard and lay them on the floor of the cabinet; the shims will raise the cleats and slides off the cabinet bottom enough to keep the shelf from scraping.
Place one of the cleats that you cut in Step 1 on top of the shims and against the cabinet side. Fasten it to the cabinet with 1
¼
-inch screws.
Now position the drawer slide on top of the shims and against the cleat, and secure it to the cleat with the screws provided.
Install the second drawer slide on the opposite side of the cabinet in the same manner.
Tip:
In most cases, it will be easier to install the slides and the finished shelf if you first remove the cabinet doors.