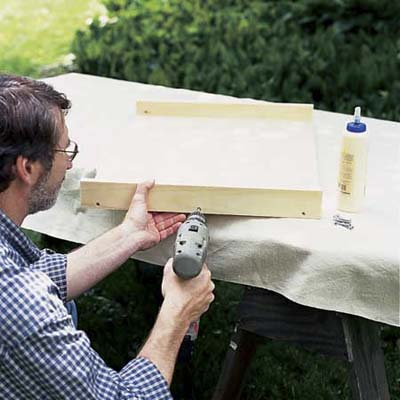 Subtract 1
½
inches from the shelf's width and from its depth to determine the dimensions of the shelf bottom. Cut the bottom from
¾
-inch birch plywood, using a circular saw.
Next, using a power or hand miter saw, cut the four 1x3s for the frame to length. The side pieces should be the same length as the plywood bottom front to back; the front and back pieces should be 1
½
inches longer so they can cover the side pieces.
Clamp the side pieces and back piece to the plywood bottom; the bottom edges of the 1x3s and the plywood should be flush. Using a combination countersink bit, drill pilot holes for the screws through the 1x3s and into the plywood every 8 to 10 inches. Also drill two holes through each end of the back piece where it will overlap its side piece.
Fasten the side pieces to the bottom with glue and 15/8-inch drywall screws. Then glue and screw the back frame piece to the plywood bottom and into the attached sides.