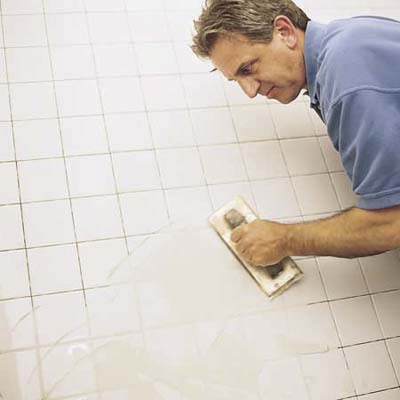 Complete each end wall by installing rounded-end bullnose tile along the edges. Allow the mastic to cure overnight.

Next, pour a quart of fortified unsanded tile grout into a bucket. Mix in just enough water or latex additive (which strengthens grout) to create a mayonnaiselike consistency.

Place some grout on a rubber trowel and smear it diagonally across the tiled surface, forcing it deep into every joint. Apply grout to all three walls in this manner.

Let the grout cure for 15 to 20 minutes, then wipe the tiles with a large damp sponge held flat against the wall. Rinse the sponge often in clean water.

The next day, buff the remaining grout haze off the tiles with a clean, dry cloth.

Finally, use siliconized acrylic caulk that matches your grout color to fill the joint between the tub and first course of tile.