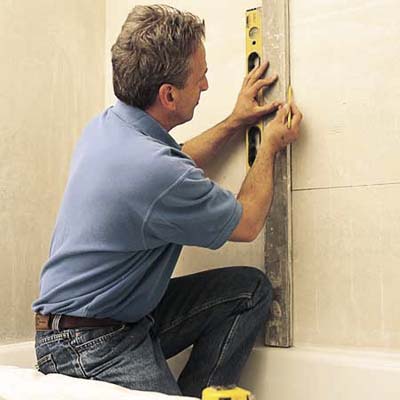 Start by measuring the height of the back wall from the lip of the tub to the top of the area to be tiled. Divide the dimension in half and make a mark there.

Check if you need to adjust this mark to avoid laying slivers of tile at the top and bottom. Calculate how many tiles it takes to reach from the center mark down to the tub. If you end up with less than half a tile at the tub, adjust the mark downward by the height of this partial tile so you end up with a full tile at the bottom and a larger cut tile at the top. Using a level, draw a horizontal line across the wall at this mark.

Next, measure the width of the back wall horizontally. Divide this dimension in half and draw a plumb line down the center of the wall. If this leaves tile slivers on both sides, adjust the line right or left as necessary.