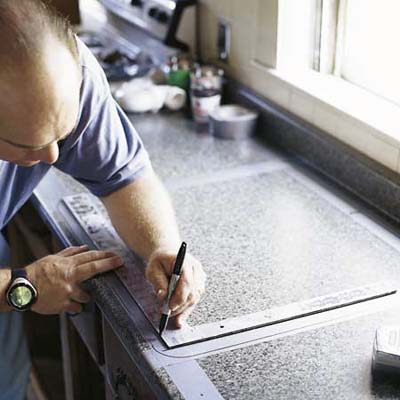 Mark the counter's back edge to center the sink within its cabinet.

If sink has a template, align it with the mark on the counter. Place its back edge 1 1/2 inches from and parallel to the counter. Trace around it; proceed to Step 2.

If there's no template, use 2-inch tape to outline the sink location.

Mark the center of the sink on its back lip.

Lay the sink upside down on the counter. Align the mark on the sink with the one on the counter.

Adjust the sink to leave 1 1/2 inches between its back edge and the backsplash. Be sure sink is parallel with the counter's edge.

Trace around the sink, then remove it.

Measure the width of the sink lip, subtract 1/8 inch, and mark inside the sink outline by that much.

To make the cut-out lines, connect all the marks with a straightedge.