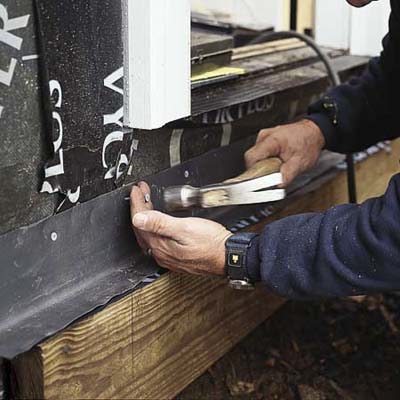 Cut a strip of self-adhering waterproof membrane 6 inches wide and the same length as the ledger.

Fold the membrane lengthwise along its center line to form a right angle. Apply it over the ledger-to-house joint so one leg covers the top of the spacer blocks and ledger and the other leg extends up the wall.

Cut a strip of metal flashing at least 6 inches wide and as long as the ledger. (If more than one strip of flashing is needed, overlap the ends by 3 inches and bed them in siliconized acrylic caulk.)

Fold the metal lengthwise to form a right angle. Apply it over the waterproof membrane.

Drive roofing nails through the flashing's top edge every 8 inches.

Fasten concealed-flange double joist hangers at both ends of the ledger and flush with its bottom edge, using joist hanger nails.