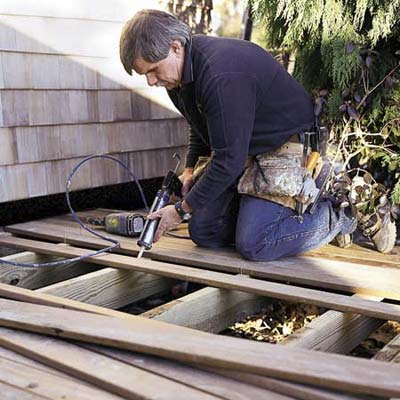 Nail paint-grade trim boards as wide as the rim joists to their outside faces with two 8d hot-dipped galvanized or stainless finish nails spaced every 12 to 16 inches. Scarf any joints in the run; miter joints at the corners.
Measure the distance from the wall to the outside of the trim board and add 1 inch for overhang. Cut the deck boards to this length.
Squeeze a bead of polyurethane marine sealant on the top edge of a side rim joist. (This adhesive actually fastens the decking in place.) Lay a straight deck board in the adhesive so its long edge overhangs the trim board by 1 inch. Secure each end of the deck board with an 8d finish nail.
Tack 8d finish nails into the joists alongside the first board to maintain consistent spacing. Squeeze dabs of adhesive onto the top edge of each joist. Lay and nail the next deck board as before. Continue gluing and nailing until the deck is complete. (Add more nails only if a board does not lie straight or flat.)
Replace the house's siding to within
½
to 1 inch of the decking.
TIP:
Decking laid at right angles to the house makes for a stronger front edge.