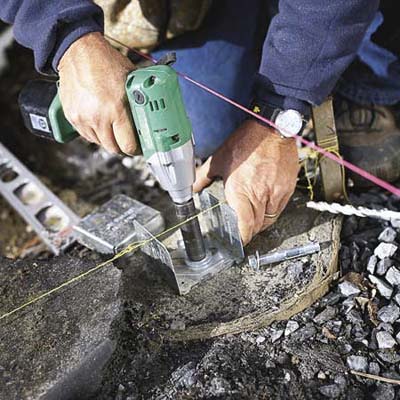 Place a post base atop a pier, positioning it so it will not interfere with joist hangers, and mark its location. Remove post base and bore into pier with a hammer drill equipped with a masonry bit. Reposition post base, insert an anchor bolt, and tighten with an impact wrench. Repeat for each pier.
Cut pressure-treated 2x stock for the doubled side rim joists and beams. Glue them up with construction adhesive and nail them together from both sides with 12d nails, spaced every 16 inches in a zigzag pattern.
Fit a side rim joist into a joist hanger at one end of the ledger,
square the corner
, and toenail through the hanger into the ledger with 16d nails. Rest the joist's opposite end on a corner pier. Repeat with the other side joist, removing mason's strings as necessary.
Cut pressure-treated 2x stock for the deck's front rim joist. Stagger any butt joints by varying board lengths, making sure joints fall in the middle of post anchors.