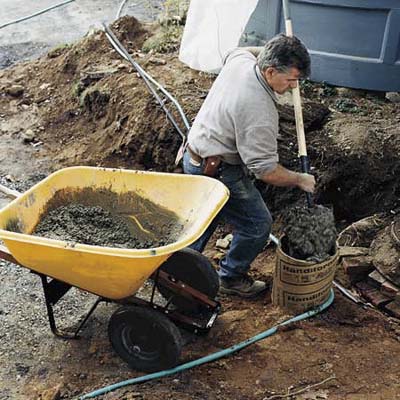 Set up batter boards and mason's strings and
determine footing locations
at the deck's outside corners and at 8-foot intervals along the front rim joist. Mark each location, then temporarily remove the mason's strings.
At each footing location, dig a hole wide enough to hold the footing form and deep enough to extend below frost line.
Assemble footing and pier forms according to the manufacturer's instructions, then position one in each hole. Gently backfill.
To determine each pier's finish height, run a level line from the top of the ledger to the pier tube. From this line, measure down 1/16 inch per foot of the pier's distance from the house, plus the height of the rim joist and post base. Mark the form at this point. Repeat for each pier. Trim pier tubes at these marks.
Check the positioning of the piers and adjust if necessary. Fill with concrete, using a shovel to work out air pockets (above). Allow the concrete to cure for one week.