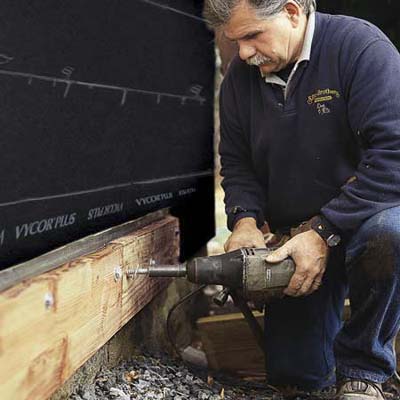 Remove the building's trim and siding to 1 foot above the top of where the ledger will sit. Cover the exposed sheathing with self-adhering waterproof membrane.
Mark the exact location of the top of the ledger. (By code, any step down to the finish decking, which sits atop the ledger, must be 4 to 7
¾
inches below the door sill.) Snap a level chalk line.
Cut a 2-inch-wide, 1
½
-inch-thick treated wood spacer for every 2 feet of ledger length. Align the top of each spacer with the chalk line and fasten with a 6d nail.
Align the ledger with the tops of the spacers and nail it to the wall at each spacer with a 16d nail. (Joints between ledger boards should fall on a spacer.)
Drill a 3
⅜
-inch pilot hole through the ledger and into the house's rim joist at each spacer, following a zigzag pattern. In each hole insert a
½
-inch lag screw and tighten it against a washer using an impact wrench or socket wrench.