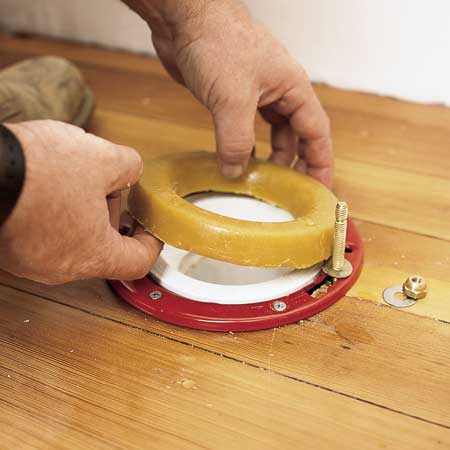 Insert the long brass closet bolts, threaded-end up, into the flange collar's slots. Slip a brass washer over each.

Gently press the wax ring, flat-side down, over the flange.

Lift the toilet bowl over the flange, align the holes in its base with the closet bolts, and lower the base onto the ring.

Without twisting or rocking, press the bowl down onto the wax ring until the bowl's base rests on the floor. If the floor is uneven, shim the bowl with stainless steel washers.

Slip a nylon washer over each bolt, then hand-thread the nuts. Tighten the nuts with a wrench one quarter turn at a time, alternating between the two. Stop when the wrench meets firm resistance; overtightening will crack the bowl.

With a hacksaw, trim the closet bolts at a point two threads above the top of the nut. Snap the plastic bolt covers into place.

*Begin with this step is replacing an existing toilet or a faulty wax seal.