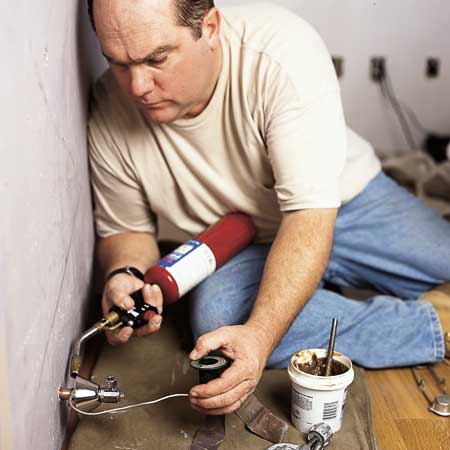 Shut off the bathroom's water-supply valve.

Place a bucket beneath the supply line, then sever the line with a tubing cutter. Leave about 1 inch of pipe to attach the stop valve and escutcheon. Allow the pipe to drain.

Remove the valve's handle and stem. (Heat from soldering may damage the stem's plastic washers.)

Dry the pipe inside and out with a rag. Clean the inside and outside of the pipe and the inside of the valve's inlet using a wire-brush pipe cleaner. Apply flux to both areas.

Slip the escutcheon over the supply line, followed by the stop valve; the valve's outlet should point upward.

Heat the supply line stop valve joint with a propane torch. Once the joint is hot enough to melt the solder, remove the flame and run the solder around the joint. When a drop of solder appears at the bottom, the joint is filled.