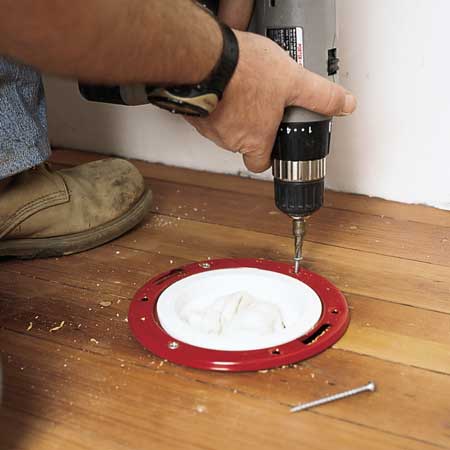 Wipe PVC primer on the inside of the closet bend and on the outside of one end of the soil pipe. Apply PVC cement to those same surfaces and immediately twist the soil pipe into the closet bend.

Prime and apply cement to the free end of the soil pipe and the inside of the closet flange. Twist and press the flange onto the soil pipe until the collar is seated on the floor.

Rotate the collar until its slots are positioned to the right and left of the hole. (The closet bolts, which will be inserted into the slots, must line up parallel to the wall behind the tank.)

Secure the collar to the floor with stainless steel screws long enough to bite into the subfloor.

TIP: When gluing a fixed-collar PVC flange, align the bolt slots quickly before the cement sets.