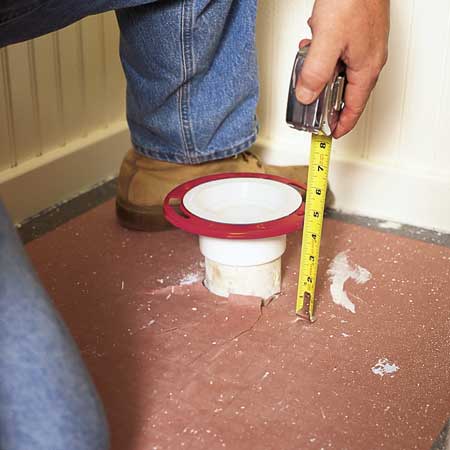 Stuff a rag into the soil pipe to block sewer gas and prevent hardware from falling in.

Check that the hole in the floor is large enough to accommodate the closet flange up to its collar. If the hole needs to be enlarged, trace around the flange's base with a pencil, then cut away the excess flooring with a jigsaw. Don't cut any joists.

Dry-fit the soil pipe into the closet bend. Place the flange over the soil pipe, then measure the gap between the bottom of the flange's collar and the finish floor.

Remove the soil pipe and use a handsaw to trim it to the measurement in the previous step. Remove burrs by scraping the cut edge with a utility knife.

Dry-fit the flange to the soil pipe, and the soil pipe to the closet bend to ensure the flange's collar rests on the floor.