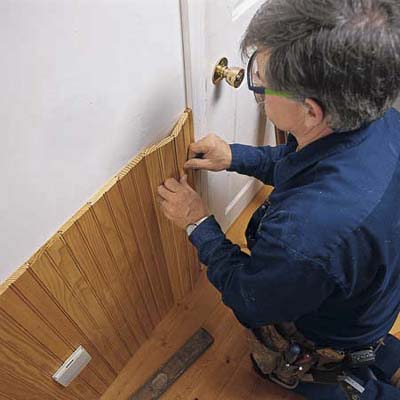 Within 2 feet or so of a doorway, measure how far the casing is from the top and the bottom of the beadboard. If there's a difference between these measurements, gradually fan out successive pieces until they become parallel with the casing.

Dry fit the last two full-width boards and measure the remaining distance to the casing. Cut the third piece to that width on a table saw.

Apply adhesive to the wall. Then put all three pieces together, bent to form a slight curve, and press them all at once between the casing and wainscot.

The same approach works for inside corners, but doesnâ?™t demand the same precise fit; any gap with the wall will be covered by the next piece

Tip: A back bevel, planed along the edge of the board that touches the casing, ensures a tight fit.