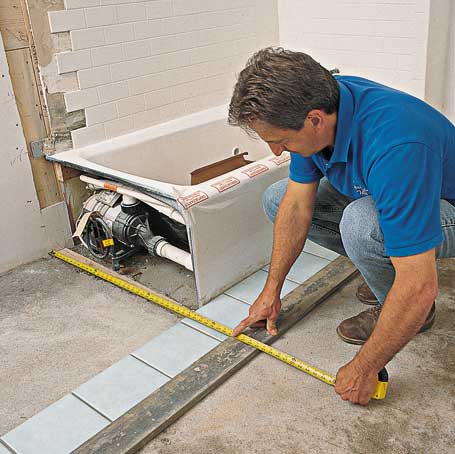 From the center tile, measure to the opposite wall (call it B; mark this distance along the tile row. Adjust the center tile along the A-to-B line until measurements at walls A and B are the same.

After adjusting the A-to-B line, mark the center tile where it touches the chalk line between the other walls (call them C and D). Align these marks with the C-to-D chalk line. Repeat the measuring and adjusting process for walls C and D.

Lay a straightedge parallel to the C-to-D line and against one side of the center tile. Mark the straightedge where it meets a corner of the tile. This mark is your starting point for laying tile.

Trim door casings with a flush-cut saw so tile can slip underneath. Cut with saw held flat against a tile on top of a piece of cardboard (to represent the thickness of the thinset).