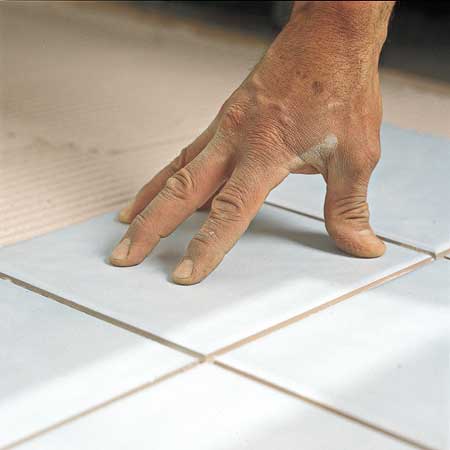 Gently lay a tile on thinset next to the straightedge. With fingertips widespread, push down with a slight twist of the wrist.

Use this same technique to set each tile, making one row along the straightedge. Using tile spacers ensures even joints.

Move the straightedge out of the way and lay the next row alongside the first, using the edge of the tile as your guide. Continue spreading thinset and setting tiles in 2-by-3-foot sections, working from the center of the room out toward the walls. Every few rows, hold a framing square or A-square alongside the edge of the tiles to check that they are square to each other.

TIP: Consistent finger pressure (and constant practice) helps avoid lippage—where a tile's edge is higher or lower than its neighbors.