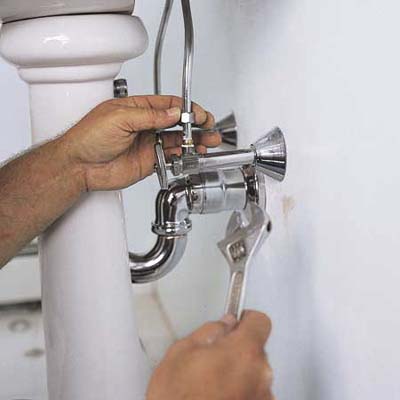 Place a washer between the elbow and trap, dope the threads, and tighten the nut by hand. Finish tightening with water-pump pliers.

Measure the distance between one angle stop and its faucet valve, add an inch, and cut a chromed supply tube to length with a tubing cutter.

Slip two compression nuts and a ferrule over the cut end. First, tighten one nut to the stop with a wrench, then bend (don't kink) the supply tube slightly—first to the side, then up—so its acorn head fits into the valve's outlet.

Tighten the head to the valve with the second nut. Repeat for the other angle stop and faucet.

With the lift rod in the up position attach the pop-up stopper to the actuator arm, then secure the arm to the lift rod with the screw provided.

Slide the escutcheon and cover over the PVC waste pipe.