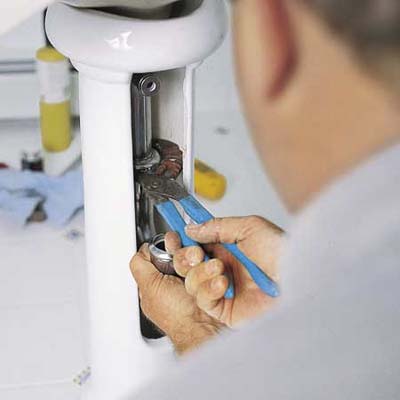 Keeping the pedestal and basin together, move them away from the wall. Have a helper hold the sink steady so it doesn't tip over.

Test-fit the P-trap and elbow assembly to the PVC waste pipe, and measure the distance from the floor to the top of the trap's open vertical end. Mark the same distance up from the floor on the tailpiece of the pop-up waste assembly.

Remove the elbow and place the P-trap's slip-nut and washer over the pop-up waste's tailpiece. Cover the P-trap's threads with pipe dope or plumber's tape and slide the trap up to the mark you just made on the tailpiece. Thread the nut on to the trap by hand.

Tighten the nut with a wrench or water-pump pliers, taking care not to mar the chrome finish.

Drill into the wall at the lag screw locations marked in step 5.