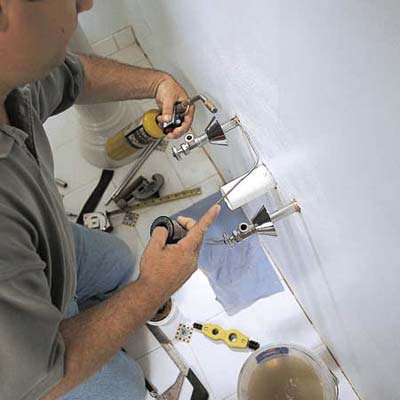 Gently ream the inside edges of the copper supply lines with a pocketknife or the triangular blade on a tubing cutter. This removes the burr left by the tubing cutter.

Polish the ends of the supply lines with sandpaper until the copper is shiny. Coat the line with flux. Polish and flux the inside of the angle stops and slip them, with their escutcheons, over the supply lines.

Light the propane torch and apply its bright blue inner flame to the stop, at the spot where the supply line ends. Hold the tip of lead-free solder against the copper tubing where it joins the stop, on the side opposite the flame.

When the solder starts to melt, turn off the torch and run the solder around the joint. After it cools slightly, wipe with a damp rag to smooth the exposed solder and remove any flux, which corrodes copper.