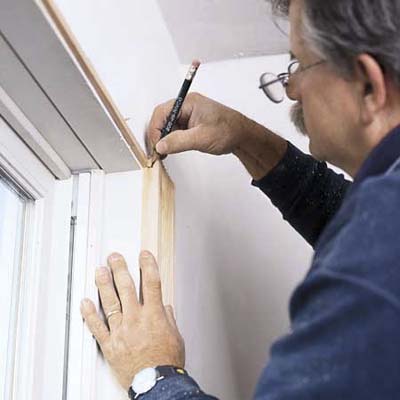 Cut a square end on a piece of casing and stand that end on the stool. Mark where its inside edge meets the head jamb's reveal line. Make a square cut at that mark. Repeat on the opposite side.

Apply a bead of glue to the casing where it overlaps the side jamb and on the end that sits on the stool; line up its edge with the reveal line. Facenail the casing into the jamb with 4d finish nails, and to the wall with 8d finish nails. Wipe up squeezed-out glue. Repeat the process on the other side.

Nail up through the bottom of each horn into the ends of the casing with two 18-gauge or 6d nails. If hand nailing, drill pilot holes.

Tip: To cut snug-fitting beveled ends, put casing face up on 1/8-inch-thick scrap 3 inches from the miter-saw blade.