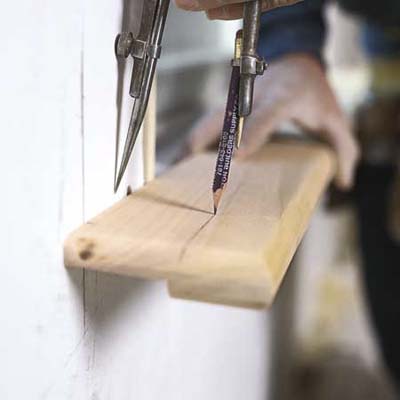 Mark the stool's inside edge 1 inch from each end and place it across the opening. Mark where the stool's edge meets the inside edge of the jambs. Set a square at those marks and draw "jamb lines" across the top of the stool. Rout the desired profile into the stool's edge and ends.

Align the jamb lines with the jambs' inside edges. Set the compass to the distance from the stool's back edge to the sill trim. Hold the compass point against the wall and scribe lines from each end of the stool to the jamb line.

Following the scribe lines, cut a notch into each end of the stool with a jigsaw. Test fit the stool; fine-tune it with a jigsaw, chisel, or sandpaper. Apply a bead of glue to the sill.

Facenail the stool to the sill with four 18-gauge nails (or 4d finish nails).