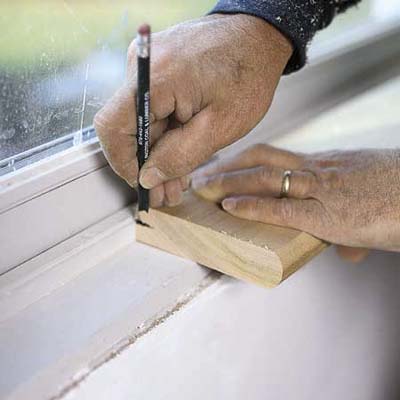 Place a side casing against the wall, aligned with the reveal line on a side jamb. Mark the wall at the casing's outside edge. Repeat for the opposite jamb. Measure between the marks, add 2 inches, and cut the stool to this length.

Place the stool face down on the sill with its back edge against the sill trim. Mark where the top of the trim meets the stool's end.

Keeping the back corner against the sill trim, slide the end of the upside-down stool against the jamb. Make a vertical mark where the end of the stool touches the jamb.

Connect the two marks with a square and make an X in the area defined by the lines; this is the waste that will be cut out to make the rabbet.

Remove the waste in two separate rip cuts on a table saw.