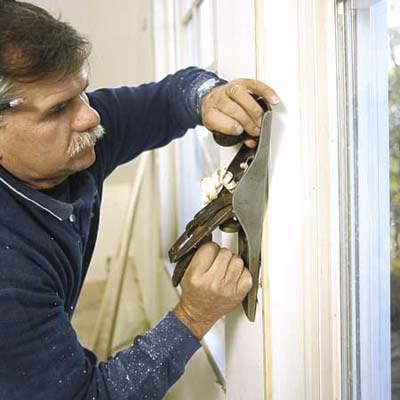 Hold a straightedge across the window; check that each jamb is flush with the wall. If they protrude, plane them down to the wall. If the jambs fall short of the wall, measure the largest gap between the straightedge and each jamb. Then, from 1x stock, rip jamb extensions as wide as necessary and
¼
inch thinner than the jamb thickness. Holding the strip against the jamb, drive 1
½
inch 18-gauge pneumatic nails (or 4d finish nails) every 8 to 10 inches. Plane off any excess.
Spread the legs of a compass ¼ inch and rest the point on one of the jamb's lower inside corners. Using the inside face of the jamb as a guide, draw a reveal line along the edges of all three jambs.
Tip:
For a tight fit between the casing and jamb, plane a slight bevel into the wall-side edge of the jamb.