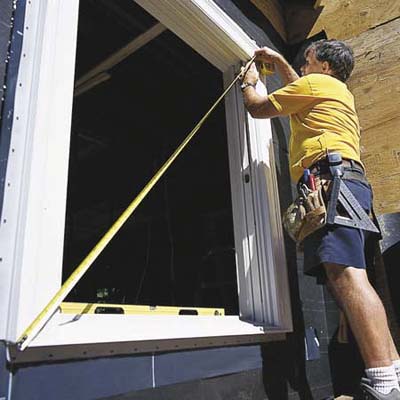 Double-check that the window is square by measuring the frame diagonally from corner to corner. Measurements should be within 1/16 inch. If not, recheck the frame's side for plumb and the sill for level. You may have to pull out the last two temporary nails and adjust the frame.

When the sill is level and the frame square, drive home the nails at each corner. If the windowsill is level and corner-to-corner diagonal measurements are identical, the sides of the window are plumb.

Holding a tape measure horizontally, measure the width of the window at several places to make sure the side jambs aren't bowed. If they are, push the frame in or out at the center of the bow and nail the fin at that point. Then nail the sides, top, and bottom of the nailing fin or casing, driving one nail through every other prepunched hole.