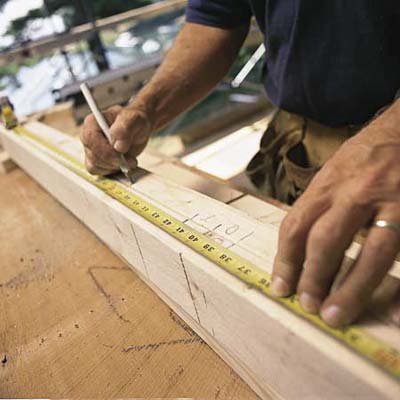 Lay the plates face-to-face. If the walls aren't plumb, stagger the plates by the differences in the Step 1 plumb-bob measurements. Mark stud locations 15 1/4 inches from plate end, then every 16 inches.
Place header against sole plate in doorway; mark each end onto plate. Draw another line 1
½
inches from the first. Draw an "X" between each pair of lines, showing king stud locations.
Remove the header. Draw parallel lines 1 1/2 inches in from the header. Draw an "O" between each pair for jack studs. Transfer the lines to the top plate.
At the first stud, draw a line across both plates. Work away from the end, drawing a line 1
½
inches from the first. Repeat at each mark to indicate stud locations.
Set header against top plate between king stud locations. Transfer lines from the top plate to the header, showing where the cripple studs go.