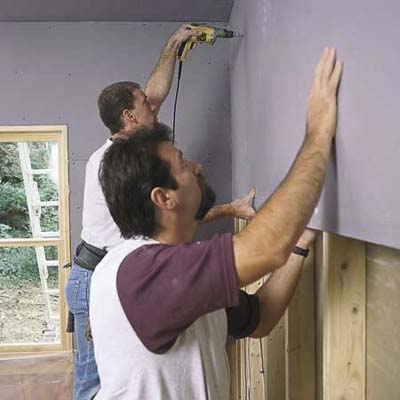 Mark all the stud locations on the adjoining ceiling panels.

Use a tape measure to ensure the first panel's end will land in the center of a stud; if it won't, cut the panel as in Step 1.

With a helper, hold the panel against the studs so that one edge butts against the ceiling panel and one end fits snugly against the abutting wall.

Following the stud marks on the ceiling, drive a line of five screws through the drywall and into each stud. As in Step 2, start screwing into a stud close to the middle of the panel and work outward.

Continue hanging panels along the top of the wall, right over any window and door openings. (The excess will be trimmed later.) Make sure no seams line up with a door or window corner. Don't fasten panels to the framing around the openings yet.