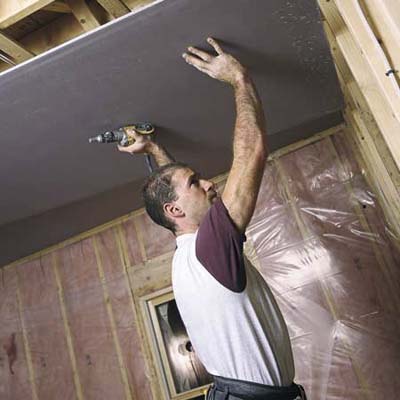 With an assistant, hoist the first panel into one corner of the ceiling. The edges should be perpendicular to strapping or joists and one end should be tight to the wall.
As the assistant holds the panel, drive five screws, evenly spaced, in a line across the panel's width and into the joist or strapping closest to the middle of the panel.
Use the marks on the top plate to help align the screws. Keep screws at least
½
inch from all edges. Drive the screwheads slightly below the surface of the paper but not so deeply that they break through.
Repeat this five-screw line at each joist or piece of strapping.
Continue the row in same fashion until reaching the opposite wall. Start the next row making sure all end joints offset the panels in the first row by at least 4 feet.