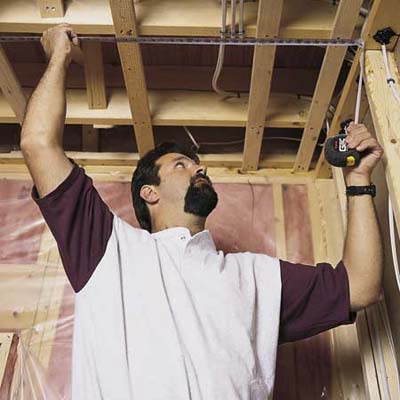 To determine where the first panel's end will land, measure out from a corner, perpendicular to the strapping, or the joists.

If the panel doesn't span the entire ceiling, its end must land on the center of a strapping piece or joist. If it doesn't, measure to the center of the farthest support piece the panel will overlap. Transfer that measurement to the edge of the first panel and mark it.

Hook a T-square on the panel and place it alongside the mark. Score through the paper on the front with a utility knife, using the T-square as a guide. Stand the panel on edge and snap the waste part of it away from the score line. Cut through the paper backing to remove the waste.

To help locate where screws will go around the room, mark the top plate at all locations where strapping or joists intersect the wall.