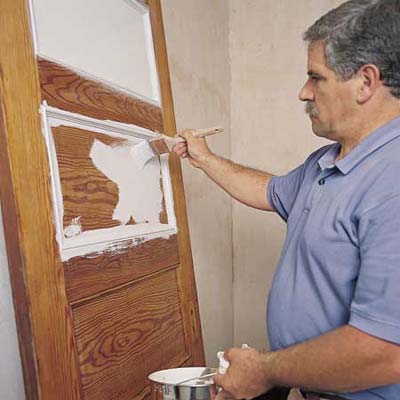 If walls and ceilings are bare plaster, coat with oil-based or all-purpose acrylic primer. Then prime bare, sanded woodwork to ensure good adhesion of the finish coats. It's not necessary to prime previously painted surfaces if they're in good condition.

Follow the basic application, distribution, and tipping steps outlined in "Technique." On doors and windows, follow the sequence detailed in "Paint by Number."

Allow primer to dry overnight, then sand lightly with 220-grit sandpaper. Clean up the dust with vacuum and tack cloth before applying final coats.

TIP: Before using a brush, saturate it with water (for latex paint) or paint thinner (for oil-based paint). Flex the bristles so the fluid can reach up into the brush's ferrule. Spin or tap the brush dry; it will be easier to clean, thereby extending its life.