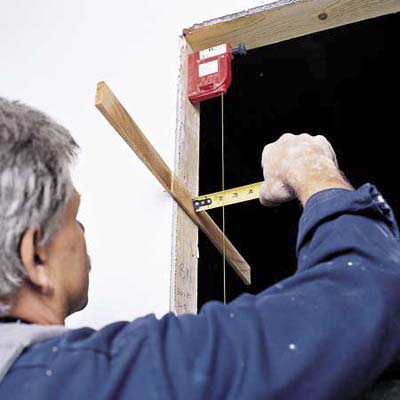 On the hinge jamb, measure from the bottom of the jamb to the center of each hinge. Mark the hinge locations on the hinge-side trimmer by measuring up from the floor (or top of the shims).

Tack the plumb bob to the top of the hinge-side trimmer, and measure the gap between the string and the trimmer at each hinge location. Where the gap is the smallest, place overlapping shims.

Adjust the shims to 1/8 inch thick, and tack them with a finish nail. Measure the gap between the shims and the plumb bob string.

Place overlapping pairs of shims at the other two hinge locations. Adjust each pair's thickness until the gap between shims and string equals the gap at the first pair.

Nail each pair to the trimmer and cut off the ends with a utility knife so they don't protrude past the drywall.