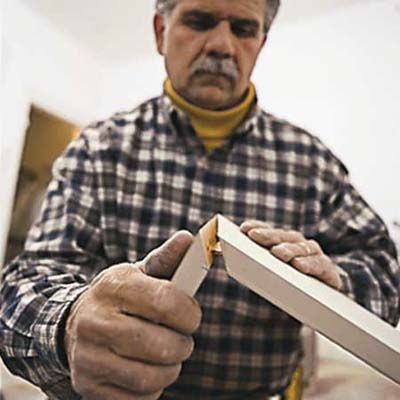 Squeeze carpenter's glue into both slots and over the face of each half of the miter cut. Then slip a biscuit into each slot on one board and bring the two boards together.

Place the boards back on the wall and drive two 8d finish nails into the wall on each side of the miter. Between these nails, drive a 4d finish nail through the joint and into the end grain of the opposite piece. Tap nail heads below the wood surface with a nail set.

Where two boards meet on a straight run, make a scarf joint by mitering the ends in opposite directions at a point where there's a stud. Glue and overlap the miters, then nail through the piece that covers the joint (not through the joint itself) and into the stud.

For inside corners, simply butt the baseboard ends together, then nail them to the wall.