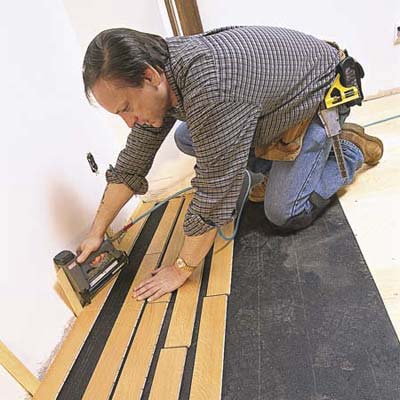 Once the first course is in place, drive 1 1/2 inch brads at a 45-degree angle through the strip's tongue and into the subfloor, a technique called toenailing. Repeat every 4 inches. Don't nail closer than 2 inches from the end of the strip.

Slip the second course of flooring over the tongues of the first and snug up the strips with a mallet or a tapping block and hammer.

As you go, offset end joints by at least 12 inches from those in the first course. Toenail them with the brad nailer as before, but don't facenail.

Because there are tongues and grooves milled into the ends of this flooring, the ends shouldn't be cut, except when they meet a wall or obstruction.

Tip: Choose each piece of flooring for length, not color or grain. The farther apart you stagger the end joints, the better the floor will look.