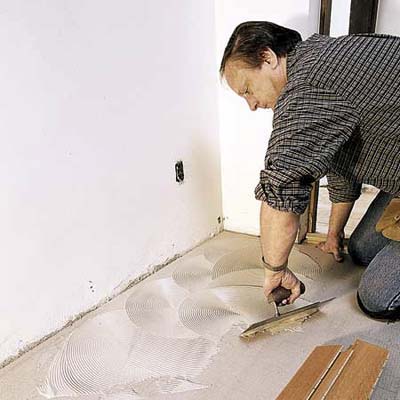 Start laying the floor in a corner, along the longest exterior wall, which is more likely than a partition wall to be straight and square.

Place 1/2-inch-thick spacers against the wall and adjacent wall. This will create expansion gaps that prevent buckling. Butt the grooved-edge of a long strip of flooring against the spacers.

With a mallet, snug together the ends of more long strips. At the end of the course, fit a strip (no shorter than 10 inches) 1/2 inch from wall.

When the first course is set, place a straightedge against the tongues. Slide the flooring in or out until the tongues line up with the straightedge.

Using a brad nailer loaded with 1 1/2-inch brads, facenail each board every 8 inches and within 1 inch of the wall. Adjust the nailer to set the brads slightly below the floor surface. Check tongue alignment as you go.