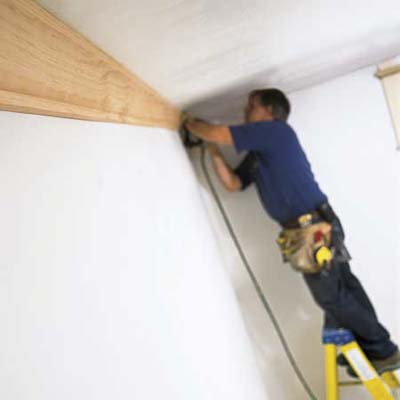 •Measure the wall for the first molding piece. Transfer this measurement to the wood, then use a power miter saw to cut the molding square at each end.
•Align the wood with the chalk line from Step 1. Working from the center, drive 8d finish nails through the molding—
½
inch from the bottom edge and
½
inch from the top edge—into each stud and joist. Near the ends, drill 1/16-inch pilot holes for 4d or 6d finish nails.
•If necessary, splice two pieces with a scarf joint centered over a stud. Set the saw to a right-hand 45-degree setting. Hold the first molding piece to the right of the blade, and cut. Hold the adjoining piece to the left of the blade, and cut. Pilot a hole in the overlapping molding,
½
inch to the side of the joint, and attach with 6d finish nails.