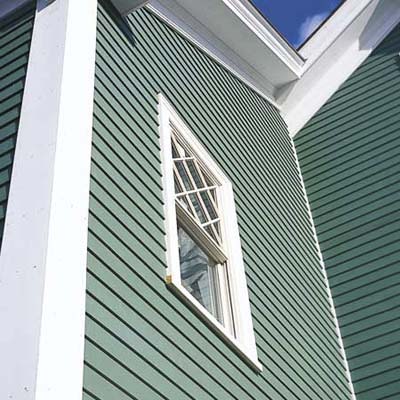 Hold the swing stick near the window casing.
Align one mark with the top of the head casing. Swing the stick's bottom to one side.
When a mark on the lower part of the stick lines up with the butt edge of the last installed clapboard, transfer the marks on the stick to the wall.
Transfer the marks on the wall to the story pole as in Step 4. Then transfer those marks to the side casing and nearest corner board. Repeat the swing-stick/story-pole process on the opposite corner board, then continue hanging siding.
Stick an 8-inch-wide piece of waterproofing membrane above the head casing. Extend it 2 inches past the casing on each side of the window.
Bend a 3-inch-wide piece of flashing over the membrane and the window casing so it overhangs by
¼
inch.
Fasten the flashing's top edge with 4d nails.