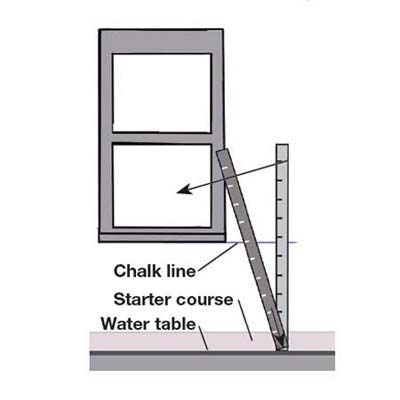 To ensure that the courses are evenly spaced, make a "swing stick" from a straight 1x3 at least 6 feet long. Starting at either end, make a series of marks along one edge, each equal to the clapboard's exposure to the weather. For 6-inch siding, that's 4 1/2 inches. Mark an arrow on the end of the stick where you began measuring.

On the wall, snap a chalk line even with the windowsill's bottom edge.

Stand the swing stick upright on its arrow-marked end between the window and corner board. The end should be even with the bottom edge of the starter course.

If any mark on the stick aligns with the chalk line, simply transfer all the marks from the stick to the wall. If none align, tilt the stick toward the marks until one lines up with the chalk line. Transfer the stick's marks to the wall.