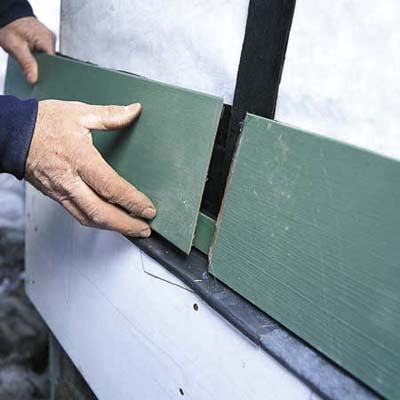 Using a table saw, rip 1 1/2 inches off the top of a clapboard for a starter strip. Prop its thickest edge 1/8 inch above the water table; secure it to every other stud with one 7d nail.
Line up the lower edge ? or butt edge ? of the first full-width clapboard so that it covers the starter strip and lies a hair above the water table. This is the starter course.
Apply sealant along the corner boards. Bed clapboard ends into it, leaving 1/16 inch space along the corner board.
An inch above the siding's butt edge, drive in one 7d nail into each stud.
If clapboard isn't long enough to span a wall, splice two together with a 45-degree scarf joint. Apply sealant to the ends, fit them together, and drive one nail through the overlapping board
½
inch to the side of the joint.