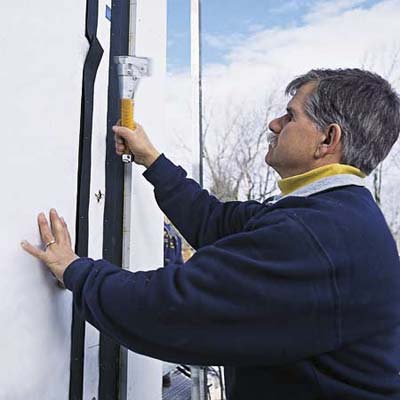 Slip 12-inch-wide splines of felt behind the corner boards and the side casings next to doors and windows. If there is no housewrap or trim on the house.

Locate studs by tapping across the wall with a hammer.

Snap vertical chalk lines at each stud location, typically every 16 or 24 inches.

Bend flashing over the water table so it extends 1 inch up the wall. Secure the top edge of the flashing at the studs with 4d nails. Overlap the ends of the flashing 3 inches, and seal joints with a paintable synthetic-rubber sealant.

Staple 12-inch builder's felt above the water table so it covers the flashing.

Staple two 2-inch-wide strips over each stud line. This creates a breathing space and provides an escape route for condensation.