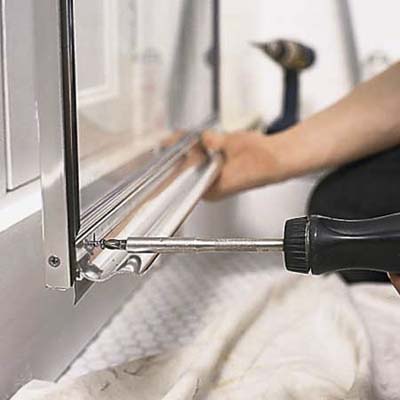 Pull the thin vinyl sweep out of the drip rail and set it aside.

Cut the drip rail with a hacksaw to match the width of the door. Round off the ends of the cut with a file.

Slide the vinyl sweep back into the groove in the rail. Crimp the ends of the groove closed with pliers to hold the sweep permanently in place.

Trim off its overhanging end with a utility knife.

With the vinyl sweep pointing down, hold the drip rail against the inside bottom edge of the door. Drill 7/32-inch pilot holes into the doorframe through the elongated mounting holes and low enough to avoid hitting the glass, which sits ¼ inch into the trim.

Attach it with the ½-inch screws. Before tightening the screws, tilt the rail down slightly toward the hinge side so that water will drain away from the strike.