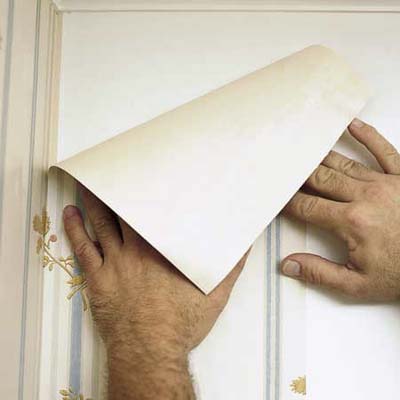 Corners are the only places where strips overlap. For an inside corner, measure from the corner to the top, middle, and bottom of the last-pasted strip. For out-of-plumb walls, add 1/8 inch to the largest measurement.

Using a level, trim a dry strip to that width, cutting the edge that'll meet the corner. Hang the paper so the just-cut edge turns the corner and extends onto the adjacent wall.

Position the adjoining strip with its edge inside the corner, overlapping the previous strip; align the patterns.

Mark where the leading edge lands and draw a plumb line. Using the line as a guide, hang this strip.

For outside corners, trim the strip to wrap over the next wall by ¼ inch.

Hang the next strip so it overlaps the previous piece but lands short of the corner. This prevents the paper from peeling if someone brushes against the corner.