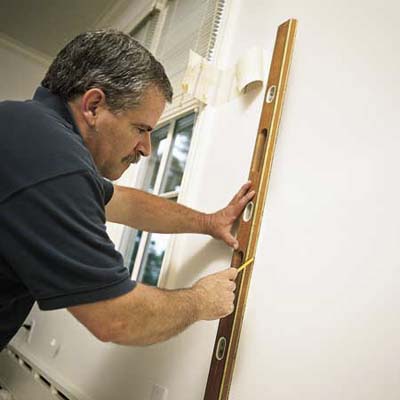 For wallpaper with a dominant element center it on the "focal wall"— the wall people first notice. Measure the width and height of this wall and mark its midpoint.

Cut a short strip of wallpaper. Place the dominant element over the midpoint. Mark the wall at the paper's leading edge, the edge against which the next strip will hang.

Using a 4-foot level, draw a plumb line at that mark.

To estimate seam locations around the room, cut two more short pieces of paper and paste them edge-to-edge on the wall.

Mark where each leading edge. Continue marking around the room, pulling up and readhering the strips. Measure the wall height at the plumb line.

Cut the first full-length strip, with as much overhang as needed to place the dominant element at the midpoint mark.

If using solid-color wallpaper, leave 1 inch of overhang at the top and bottom.