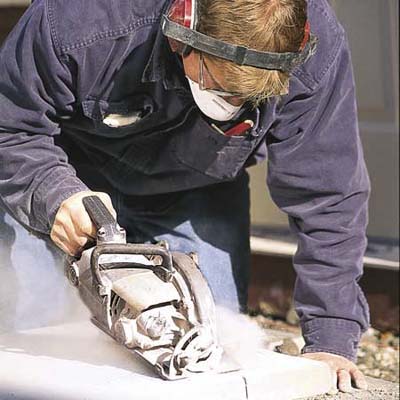 Mark the cut with a pencil on the top face, then scribe the cut-line using a carbide-tipped awl. For straight cuts, use a level as a straightedge to guide the scribe.

Elevate the edge that will be cut off by placing a piece of wood under the cut-line.

Put on safety goggles, ear protection, and a dust mask.

To score a slab, set the saw blade to a ½-inch cutting depth, start the saw, and slowly guide it along the cut-line. Then set the blade to 1 inch and make another, final pass.

With solid premium-grade bluestone—which is less likely to flake or chip—a scoring cut halfway or three quarters of the way through is sufficient. Just knock off the waste side with a hand sledge. A cheaper, lower-grade stone that's prone to fracturing has to be cut all the way through.