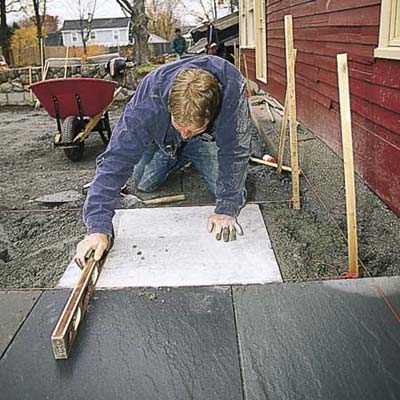 With a level, check the edges of the stone to make sure they are flush with any adjacent slabs, and check the strings to make sure the stone is pitching at the correct angle. The stone face should be as close to the string as possible without actually touching it.

To adjust a stone for flush and pitch, pry it up with a square shovel, then use a trowel to add or remove wet mix.

Repeat the same shoveling, laying, twisting, and tapping procedure for the next stone, leaving a 3/8- to ½-inch gap between stones.

Lay a level across both stones to ensure they are in the same plane.

Brush and rinse the stones before the wet mix has a chance to dry.

Keep off freshly laid stones for a day or until the setting bed hardens.