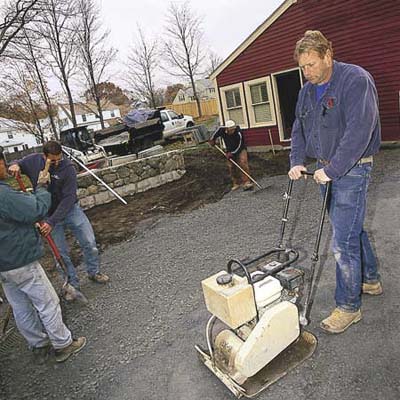 Cover the subgrade in batches of 3-inch-thick layers of pack, a blend of ¾-inch crushed stone and stone dust. Dampen each layer with water to keep down the dust.

Compact each layer with a plate compactor. Use a hand tamper near walls, sidewalks, or foundations. Repeat process of adding, dampening and tamping each 3-inch layer until all the pack is roughly 2½ inches below the marks on the stakes (if laying 1 ½-inch-thick stone).

Drive additional stakes every 2 feet between the corner stakes closest to the house and again on the opposite end of the patio, which the grade slopes toward.

Stretch a chalk line between the finish grade marks and snap the line against the new stakes.

Run strings along the pitch of the patio between the new stakes at their finish-grade marks.

Tip: For irrigation lines or outdoor electricity, lay 3-inch-diameter PVC conduit over the subgrade.