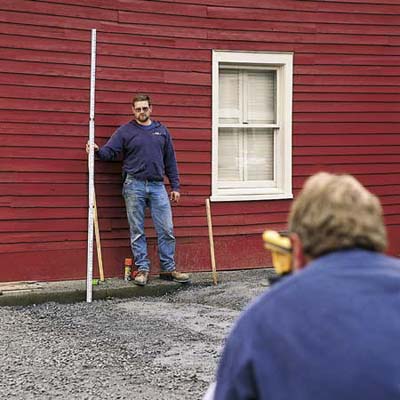 Drive 3-foot stakes into the ground 1 foot outside the corners of the patio area.

Set a builder's level in the middle. Find a benchmark—a spot where the patio meets the house. Look through the level's scope while a helper holds a leveling rod at the benchmark and moves the rod's marker until it falls in the scope's crosshairs.

Then, at any stake, have your helper, with the marker at the established point, move the rod up or down until the marker falls in the crosshairs.

Mark the stake at the bottom of the rod. Swivel the level and repeat at each stake.

On the two stakes farthest from the house, measure down from the mark 1/8 inch for every foot between it and the benchmark. The marks show the finish grade.

Dig 6 to 12 inches below finish grade to reach the subgrade. Tamp it with a plate compactor.