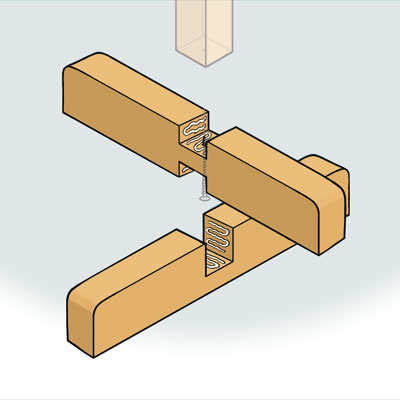 Use a miter saw to size the parts according to the
downladable cut list
. You'll form the stand by crossing two feet at a half-lap joint. To mark your notch cutout lines, trace the width of the 8/4-inch stock across the top edge of each foot, at its center. On the upper foot, use a square to transfer these lines to the opposite edge. To notch the top of the lower foot, set your miter saw to stop at a depth of 1
½
inches.
Use the saw to carefully cut along the inside of each line, then make a series of kerfs between the two cuts. Clean up the bottom of the notch with a chisel and a rubber mallet. Use the same method to notch the upper foot, making a 1-inch-deep notch in the bottom and a
½
-inch-deep notch in the top to accept the post.
To round off the top corners of the feet, trace the curve of a 1-quart paint can, cut the lines with a jigsaw, and sand the cuts smooth.