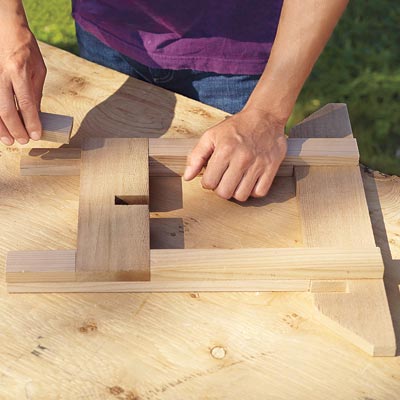 Place an upper crosspiece on a work surface, notches facing upward. Place two legs below it with their tops abutting the crosspiece, and align the outer edges of the legs with the inner edges of the notches. Lay upper support blocks onto the upper crosspiece and legs so that they're flush at the top and fall between the notches. Lay a lower crosspiece onto the legs with the notch facing upward, abutting the upper support blocks and flush with the legs' outer edges. Lay lower support blocks onto the legs, abutting the lower crosspiece and flush with the legs' bottoms. Repeat for the second side.

Tip: The pieces of the base should fit snugly, but if the notches are 
a bit tight, use a wood file or a narrow piece of scrap wrapped in sandpaper to enlarge them.